---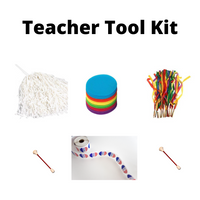 If you teach baton to kids then this tool kit is a must have! You will have the very best teaching props ready to go whether this is your first class or fiftieth class! 
Your Teacher Tool Kit includes:
25 TWIRLER Stickers
2 Baby Batons (Use these to signify your class leader or to acknowledge students for their hard work)
5 Scarves (Use your scarves to practice catching with something soft before moving onto catching a baton or use for games.
10 Standing Dots (Use to keep your students evenly spaced and to mark the beginning spot and ending spot for across the floor and classroom games)
5 Pairs of Pom Poms With Handles (Use these pom poms for classroom activities and games or  to add to a routine) 
5 Ribbons - (Use your ribbons to add color and excitement to your classes)