---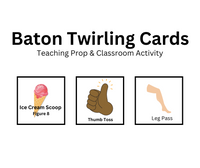 These baton twirling cards are a teaching tool that every coach is going to love! 
Use these cards as a teaching prompt in your beginner classes.  Your cards will help your students remember the names of twirls by associating the picture with the trick.  Use these as a prompt during routine practice to remind students what trick comes next in the routine. 
Or, use them as a classroom activity to allow twirlers to develop the skills of choreography.  Start by giving students 3 cards and have them practice putting them in different order and then practice their new combination in that order. Does that order flow? Does it feel choppy?  You'll bring a new level of learning to your twirlers with your set of baton twirling cards. 
Each set of cards has over 20 twirls in it for hundreds of possibilities of combinations.  
This product will be printed in a high quality color, laminated and shipped to you.  If you would like to receive these immediately these in a digital download, search for "Baton Twirling Cards - Digital Download"