---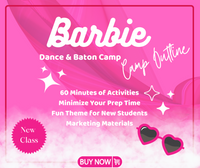 Introducing the enchanting Barbie Dance and Baton Camp Outline – the ultimate solution for dance and baton teachers seeking an engaging and effortless program to captivate new and returning students. With this meticulously crafted curriculum, teachers can seamlessly integrate the magic of Barbie into this camp or clinic while reaping a multitude of benefits.
Immerse your students in a world of wonder, where creativity knows no bounds. This comprehensive camp outline is designed to reduce your planning time significantly, allowing you to focus more on what you do best – teaching! From a detailed plan to fun activity ideas, we've done the hard work for you, ensuring a stress-free teaching experience.
What's more, the Barbie theme is a proven crowd-pleaser! Your students will be drawn to the allure of their favorite doll, sparking their enthusiasm for dance and baton twirling. This irresistible offering is a powerful tool to increase student enrollment. Parents and kids alike will be thrilled to be a part of this imaginative adventure.
Don't miss out on the chance to make learning fun, attract new students, and simplify your teaching experience. Get the Barbie Dance and Baton Camp Outline today and turn your studio into a magical world of dance, twirls, and Barbie-inspired dreams!