---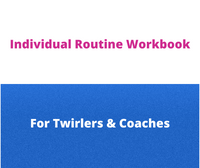 Whether you are a coach, parent or twirler, creating a routine that is polished, perfected and performance ready is the goal when learning individual routines.  This workbook will help twirlers to successfully complete the process of learning, memorizing and perfecting their routine.  This workbook is ideal for:
One Baton Solo
Multiple Baton
Show Twirl 
Freestyle/Rhythmic
Duets/Pairs
Strutting Events
In this 9 page workbook twirlers will receive guidance on:

Learning Choreography
Memorizing Choreography 
Practicing By Section or Combination
Improving Speed, Smoothness & Technique
Creating A Perfected Performance
Your download will be emailed to you immediately after you check-out.  Satisfaction 100% guaranteed.